#WeGotYourBack #WeGotItCovered #BBCNews #USA #washington #BlizzardWarnings #PresidentObama
A huge blizzard bearing down on the US east coast is expected to dump near-record levels of snow on Washington and the Mid-Atlantic region.
More than 50 million people have been warned of a "potentially paralysing storm" late on Friday that will bring 24ins (60cm) of snow within hours.
There are warnings the blizzard could cause power outages and will bring road and air travel to a halt.
A rush for supplies led to long queues and empty shelves at supermarkets.
The weather system has already proved to be deadly, with two drivers killed in North Carolina, one in Tennessee and a pedestrian dead in Maryland.
In summary:
states of emergency declared in Maryland, North Carolina, Georgia, Pennsylvania, Virginia and the District of Columbia
blizzard watches in effect from Arkansas through Tennessee and Kentucky and as far north as New York
heaviest snowfall (24ins) predicted for area just west of Washington DC
the capital's transport system – the second busiest in the US – will close all weekend
Garth Brooks has postponed two sold-out concerts in Baltimore
schools across the region are closed on Friday
airlines have issued waivers for travel, meaning passengers can rebook
High winds could compound problems, with 30mph (50km/h) winds forecast for Manhattan on Saturday, and even stronger gusts in Washington and Baltimore.
National Weather Service director Louis Uccellini said the system had "the potential of being an extremely dangerous storm that could affect over 50 million people".
He added: "We are talking about a potentially paralysing storm that is already setting up."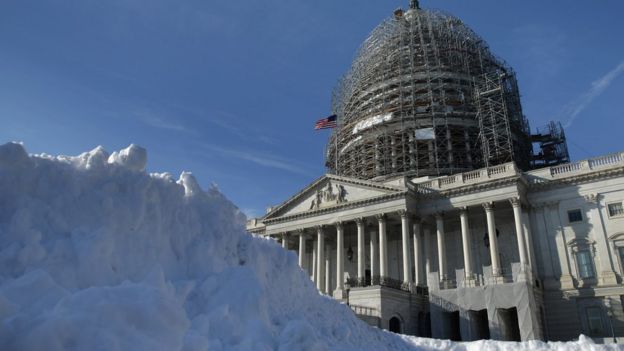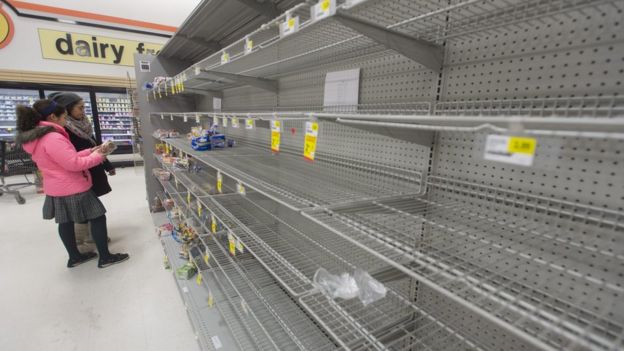 The record snowfall for Washington is 28ins (71cm) that fell during a two-day period in January 1922.
Boston, which bore the brunt of repeated snowstorms last year, is expected to escape relatively lightly this time, with just a few inches.
---
Snowfall predictions
24ins (60cm) – NE Virginia
20ins – Washington DC
12-18ins – Philadelphia
14ins – Kentucky
10ins – New York City and Long Island
Why do so many people die shovelling snow?
10 weird things Americans are doing in the snow
A light dusting of snow on Wednesday night caused gridlock in Washington, raising fears about what lies ahead.
Routine commutes lasted up to three hours and some people abandoned their cars, after an inch fell – a fraction of what is expected on Friday and Saturday.
Washington Mayor Muriel Bowser tweeted an apology and even President Barack Obama's motorcade got snarled up in it, spending an hour and 12 minutes on a half-hour journey to the White House.
Source: http://www.bbc.co.uk/news/world-us-canada-35374741

Continue to like, comment and follow us
MicstagesUK
On-line magazine/ website  bringing you the hottest headlines, as they drop.  We cover: Politics, Current Affairs, Movies, Music, Reviews, Health, Sports, Fashion and Current Affairs
Facebook: Micstages UK  Twitter: @MicstagesUK  Gmail: MicstagesUK
***WE GOT YOUR BACK***