Over the past week, numerous allegations of sexual misconduct within the institution have emerged, putting a focus on the European Parliament which has long been suspected as a body where harassment is a problem.
More than 30 allegations of rape, assault and harassment connected to the Parliament have been reported to news website Politico, which called for alleged victims to contact them anonymously.
Four women, two of whom alleged rape, said they had lodged official complaints with the Parliament.
Another allegation came from a UKIP MEP, who claimed she had been told by a source that 15 MEPs had been accused of sexual harassment.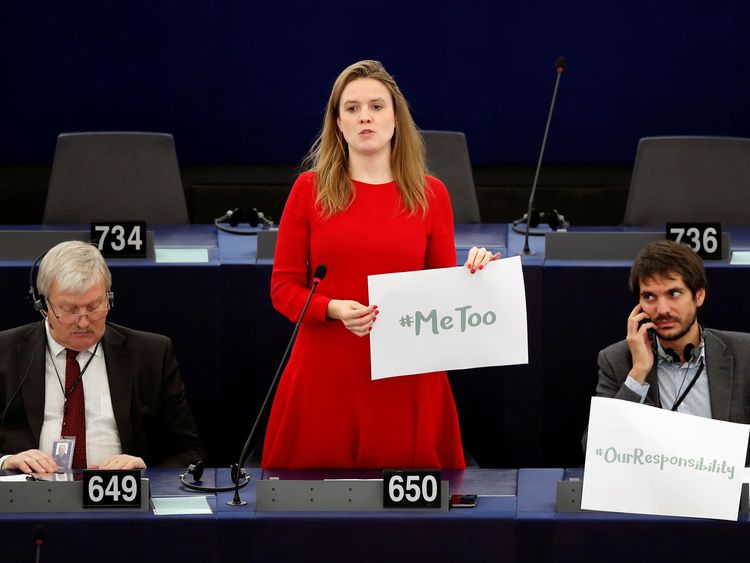 Speaking during the debate, UKIP's Margot Parker called on the Bureau of the European Parliament, which is responsible for the Parliament's administration, to reveal everything it knows about the matter.
She said: "We all heard the stories and rumors going on for many years. The very place that claims to legislate against this sort of disgusting behavior is turning a blind eye to its practice.
"The idea that MEPs or staff are using their positions of power to perpetrate abuse is shameful and unacceptable.
"Can members of the Bureau tell us all they know about their in-camera meeting at the end of last year regarding 15 MEPs that are accused of sexual harassment? These files should be opened up to public scrutiny."
A spokesperson for the European Parliament called the accusation against 15 MEPs "absolutely untrue".
Read On: http://news.sky.com/story/rape-allegations-prompt-urgent-eu-parliament-debate-and-vote-11098092
#WeGotYourBack #WeGotItCovered #News #SkyNews #Politics #Strasbourg #EuropeanParliament #UKIP #MEP #MargotParker #Debate #Parliament #UncheckedSexuaAbuse #SexualAbuse 
For more breaking news: subscribe, like, comment and follow:
MicStagesUK
We got your back, and we got it all covered! Bringing you the hottest tea as it spills.
We cover:  News, Music, Entertainment, Fashion and Sports.
 Follow us on: