Trucks and tankers will be banned from entering Mogadishu during the day in the wake of two deadly attacks on the Somali capital in just two weeks.
It is hoped the ban will improve security at a time when the effectiveness of its current measures is under the spotlight.
Two top security officials were fired following the most recent attack on 28 October which left at least 27 dead.
Another attack two weeks earlier killed more than 350 people.
The 14 October attack – the deadliest in Somalia's history – was carried out using a truck packed with explosives.
The capital's mayor, Thabit Abdi, announced that trucks and tankers cannot pass through the city from 07:00-20:00. Those flouting the ban risk a fine of $1,000 (£750).
The Somali government blames militant Islamic group al-Shabab for the 14 October bombing, which took place at a busy junction.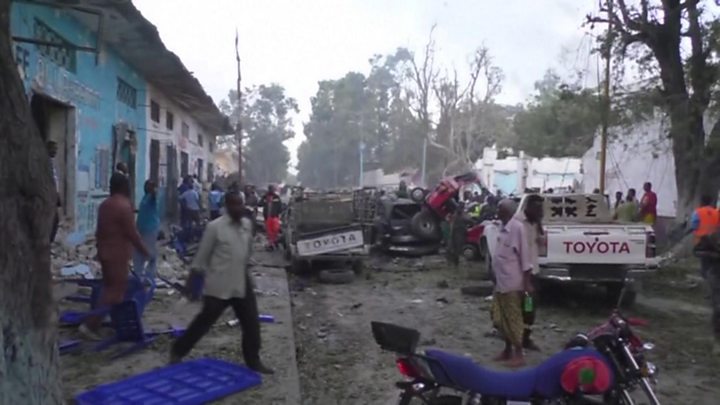 The group has denied it was behind the bombing. However, it has said it was behind the 28 October attack, which involved two car bombs being detonated in quick succession, followed by a 12-hour siege in the Nasahablod Two hotel.
The militants, who have links to al-Qaeda, say they targeted the hotel on Saturday because it was frequented by security officials and politicians.
The al-Shabab gunmen were dressed as members of the security forces – apparently helping them enter the hotel unchallenged – but Information Minister Abdirahman Omar Osman has disputed allegations they had official IDs.
A senior intelligence officer, Col Ahmed Yare, had told the UK Guardian newspaper: "They had ID cards which had clear information such as names, ranks and photos so no police officer could stop them."
But Mr Osman denied this, telling the Reuters news agency: "They had the uniforms of security forces, even though they did not have ID cards."
Source: http://www.bbc.co.uk/news/world-africa-41818929
WeGotYourBack #WeGotItCovered #BBCNews #International #Somalia #Mogadishu #TruckAndTankerBan  #DeadlyAttacks  #Mayor #ThabitAbdi
For more international news, subscribe, like, comment and follow:
************
#WeBringTheStarsOut
SEND US YOUR MUSIC FOR A SPOT IN OUR ONLINE MAGAZINE.
Email: micstagesuk@gmail.com for more information
************
We got your back, and we got it all covered! Bringing you the hottest tea as it spills.
We cover:  News, Music, Entertainment, Fashion and Sports.