#WeGotItCovered #WeGotYourBack #BreakingNews #WorldNews #SaudiArabia #SheikhNimrAlNimrExecuted #TerrorismOffences #AntiGovernment #BBCNews #Iran
Saudi Arabia has executed the prominent Shia cleric Sheikh Nimr al-Nimr, the interior ministry said.
He was among 47 people put to death after being convicted of terrorism offences, it said in a statement.
Sheikh Nimr was a vocal supporter of the mass anti-government protests that erupted in Eastern Province in 2011, where a Shia majority have long complained of marginalisation.
Shia-lead Iran said Saudi Arabia would pay a "high price" for the execution.
A foreign ministry spokesman said Riyadh "supports terrorists… while executing and suppressing critics inside the country".
Iran is the main regional rival of Sunni-ruled Saudi Arabia.
There are reports of protests in Qatif, in Eastern Province, where security has been raised.
Nephew spared
The executions were carried out simultaneously in 12 locations across Saudi Arabia.
Those also put to death include Sunnis convicted of involvement in al-Qaeda-linked terror attacks in 2003. Of the 47 executed, one was a Chadian national while another was Egyptian. The rest are Saudis.
Saudi Arabia's top cleric, Grand Mufti Sheikh Abdulaziz Al al-Sheikh, defended the executions, calling them a "mercy to the prisoners" as it would prevent them committing more crimes, Associated Press reported.
Who was Sheikh Nimr al-Nimr?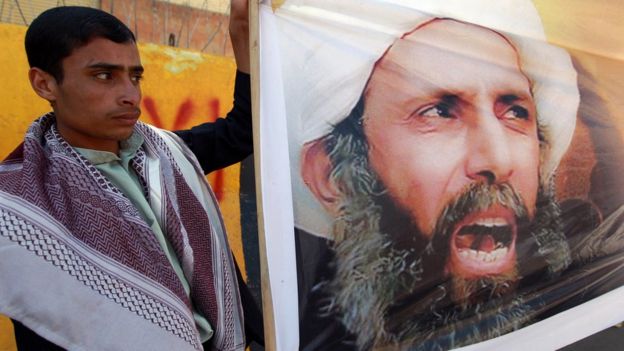 In his 50s when he was executed, he has been a persistent critic of Saudi Arabia's Sunni royal family
Arrested several times over the past decade, alleging he was beaten by Saudi secret police during one detention
Met US officials in 2008, Wikileaks revealed, seeking to distance himself from anti-American and pro-Iranian statements
Emerged as a figurehead in the protests that began in 2011 inspired by the Arab Spring
Said to have a particularly strong following among Saudi Shia youth
---
The international rights group Reprieve called the executions "appalling", saying at least four of those killed, including Sheikh Nimr, were put to death for offences related to political protest.
Protests broke out in early 2011 in the oil-rich Eastern Province in the wake of the Arab Spring.
Sheikh Nimr's arrest in the following year, during which he was shot, triggered days of protests in which three people were killed.
His death sentence was confirmed in October 2014, with his family saying he had been found guilty among other charges of seeking "foreign meddling" in the kingdom.
Sheikh Nimr's supporters say he advocated only peaceful demonstrations and eschewed all violent opposition to the government.
The cleric's nephew, Ali al-Nimr, who was 17 when he was arrested following the demonstrations and also faces execution, was not listed as one of those killed.
Continue reading: http://www.bbc.co.uk/news/world-middle-east-35213244

***WE GOT IT COVERED***

Continue to like, comment and follow

MicstagesUK

Online magasine/ website  bringing you the hottest headlines, as they drop.  We cover: Politics, Current Affairs, Movies, Music, Reviews, Health, Sports, Fashion and Current Affairs

Facebook: Micstages UK  Twitter: @MicstagesUK  Gmail: MicstagesUK

***WE GOT YOUR BACK***