A mother claims her kid was "suspended" from school because of her career as an adult entertainer on OnlyFans, so she has been homeschooling him.
Sara Blake Cheek, 31, claimed she was "humiliated" by staff at her son's school after rumours spread among other parents that she earned $480,000 (approximately £360,000) per year on OnlyFans.
In an interview with The Star, Cheek explained the sequence of events as follows: "The school never gave a reason or responded to us." They just graduated him out.
"We homeschooled to make up for the time missed, and he is now enrolled in the public school by our house."
---
Recommended
---
She added: "I also want to note, I never fought the suspension. I just wanted to talk to the principal and hold her accountable for not being able to do her job without bias, solely based on what a kid deserves without involving his parent."
Defending her line of work, she pointed out: "A celebrity can film sex scenes or be topless in a movie and be praised for a weird baby name they give to their children. This is no different other than the fact we are giving our kids normal suburban lives.
"Having your rights as a mother, a good one at that, taken by someone else for providing, is unimaginably the worst feeling in the world."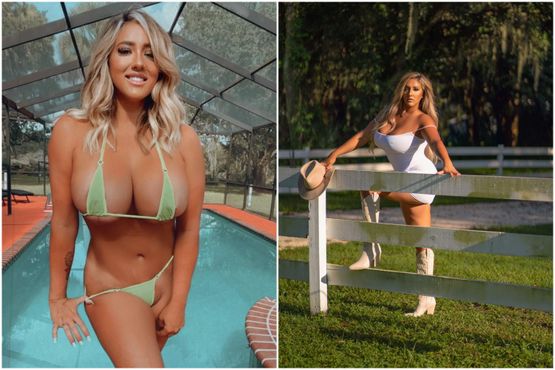 Sara Blake insists her work is no less legitimate than that of an actorSara Blake Cheek/Twitter
Her husband, Matt, and their four children, Chandler, Camden, Corey, and Carson, reside in Florida. She has appeared on the covers of Playboy and FHM despite the disapproval of her peers, and she frequently produces and hosts podcasts about her favourite subject, collegiate American football.
She is in charge of Omega, a PR and management company that helps other OnlyFans models.
Cheek has also spoken out in favour of another Florida mother, Victoria Triece, who alleges she was barred from volunteering at her son's school due to her OnlyFans work.
Triece, who is also 31, filed a complaint against the Orange County Public School District in Orlando, alleging that the head teacher at Sand Lake Elementary School told her she wouldn't be permitted on campus.
When she decided to pursue legal action, the mother-of-two said she had other parents in mind and hoped no one else in her situation would have to go through what she had.
"I am seeing Victoria fight this and bring more attention to the issue of cancelling a mother's support for her family simply because someone is insecure or wants to label it as bad or negative," Cheek said of her friend.
"It's unjust and terrible."