If your scheduled to travel with Rhyair in the coming six weeks, please read this carefully as your flight might be affected, and you might be entitled to compensation under the EU261 compensation Scheme. 
Ryanair's mass cancellation of flights due to a pilot shortage could cost the company almost £18million in compensation, according to chief executive Michael O'Leary.
Due to rostering errors, the airline will have to cancel up to 50 flights a day over for the next six weeks after allowing too many pilots leave at the same time, meaning the company now have a shortage.
"Clearly there's a large reputational impact for which again I apologise. We will try to do better in future," O'Leary said.
"In terms of lost profitability we think it will cost us something of the order of up to about five million euros (£4.4 million) over the next six weeks and in terms of the EU261 compensation we think that will be something up to a maximum of 20 million euros but much depends on how many of the alternative flights our customers take."
O'Leary says he should stay and fix the company's problems after they were forced to shelve the flights.
Ryanair have only confirmed which flights will be cancelled until Wednesday, but plan to publish a full list of the flights affected by the problem on Monday evening, and those impacted by a cancelled flight will be contacted by email.
Under EU law, passengers given less than 14 days notice of a flight cancellation are entitled to claim compensation worth up to 250 euros (£221) depending on the timing of alternative flights and if the issue was not beyond the responsibility of the airline, such as extreme weather.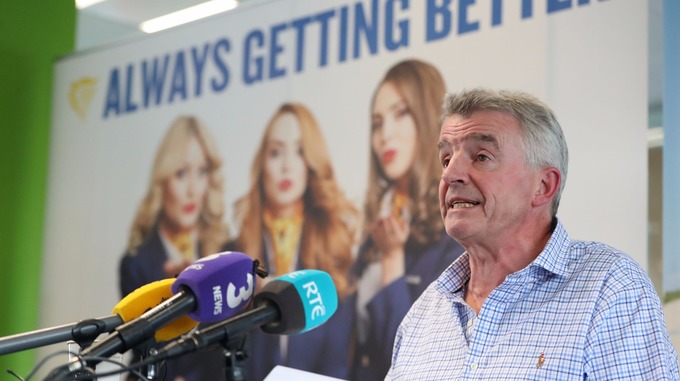 O'Leary said: "If they're not satisfied with the alternative flights offered they can have a full refund and they will all be entitled to their EU261 compensation entitlements.
"We will not be trying to claim exceptional circumstances.
"This is our mess-up. When we make a mess in Ryanair we come out with our hands up.
"We try to explain why we've made the mess and we will pay compensation to those passengers who are entitled to compensation, which will be those flights that are cancelled over the next two weeks."
The chief executive went on to insist the airline is "not short of pilots" as he explained the reason behind the cancellations.
He said: "What we have messed up is the allocation of holidays and trying to over-allocate holiday during September and October, while we're still running most of the summer schedule, and taking flight delays because of principally air traffic control and weather disruptions."
Source: http://www.itv.com/news/2017-09-18/ryanair-mess-could-cost-company-18m-cheif-executive-michael-oleary/
For more breaking news: subscribe, like, comment and follow:
MicStagesUK
We got your back, and we got it all covered! Bringing you the hottest tea as it spills.
We cover:  News, Entertainment, Fashion, Gossip, Sports, Business Advertising and  Technology.