The leader and deputy leader of far-right group Britain First have been found guilty of religiously-aggravated harassment.
The group's leader Paul Golding, 36, of Penge, south-east London, was found guilty of one charge of the hate crime but two other counts against him were dismissed.
Deputy leader, Jayda Fransen, 31, also from Penge, was convicted of all three charges.
They are due to be sentenced on Wednesday afternoon.
The pair were arrested last May over the distribution of leaflets and posting of online videos during a rape trial at Canterbury Crown Court involving three Muslim men and a teenager, who were later convicted and jailed.
Delivering the judgment, Judge Justin Barron told Folkestone Magistrates' Court said the words and actions of Golding and Fransen "demonstrated hostility" towards Muslims and the Muslim faith.
He said: "I have no doubt it was their joint intention to use the facts of the case (in Canterbury) for their own political ends.
"It was a campaign to draw attention to the race, religion and immigrant background of the defendants."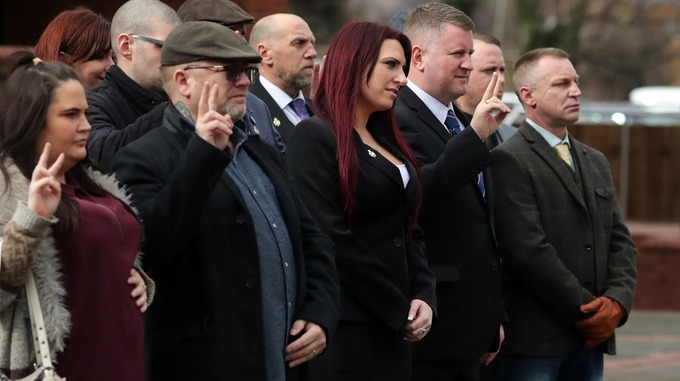 During the trial, the court was told Fransen went to the Kent home of one of the defendants, Tamin Rahmani, and shouted racist abuse through the front door.
His pregnant partner Kelli Best said she was alone with their two children, aged three years and 18 months, at the time of the incident on May 9 last year.
On a video played in court, Fransen could be seen banging on the door and shouting: "Come out and face me you disgusting rapist, come on."
Fransen denied using the phrase "Muslim b*****ds", or saying that all Muslims are rapists.
Golding said he was only acting as Fransen's cameraman, and that it was her campaign.
Judge Barron told the court that Fransen and Golding were "well-known", "controversial" and "generate their own publicity".
Last year, President Donald Trump sparked controversy by
retweeting three videos
from Fransen's social media account.
He later apologised during a
television interview with Piers Morgan
, saying: "If you are telling me they're horrible people, horrible, racist people, I would certainly apologise if you'd like me to do that."
Fransen's official account was
later suspended
by Twitter.
He said the court received a number of emails both in support and against the pair but said the verdict was based "solely on admissible evidence heard in court".
Source: 
http://www.itv.com/news/2018-03-07/leaders-of-far-right-group-britain-first-found-guilty-of-religiously-aggravated-harassment/
WeGotYourBack #WeGotItCovered #News #Politics #ITNews #UK #FarRightGroup   #BritainFirst #PaulGolding  #FolkestoneMagistratesCourt  #FoundGuilty #HateCrimes #Muslim
************
For more breaking news, subscribe, like, comment and follow:
************
Advertise your story, business, service, function or music, RIGHT HERE!! Turn our subscribers and followers into your potential customers, readers or listeners.
Email: micstagesuk@gmail.com for more information
************
We got your back, and we got it all covered! Bringing you the hottest tea as it spills.
We cover:  News, Entertainment, Sports, Fashion and Music.