#WeGotItCovered #WeGotYourBack #Philadelphia #PoliceOfficerAmbush #IS #EdwardArcher #JessieHarnett
A police officer in Philadelphia was ambushed by a man who pledged allegiance to the so-called Islamic State (IS), officials have said.
Edward Archer fired at least 11 shots at the officer, in an act done "in the name of Islam", police said.
Despite being shot, Officer Jessie Harnett left his vehicle and was able to to return fire, striking Mr Archer at least once.
Mr Archer escaped on foot but was apprehended by police shortly after.
"This is absolutely one of the scariest things I've ever seen," Police Commissioner Richard Ross said.
"This guy tried to execute the police officer. The police officer had no idea he was coming."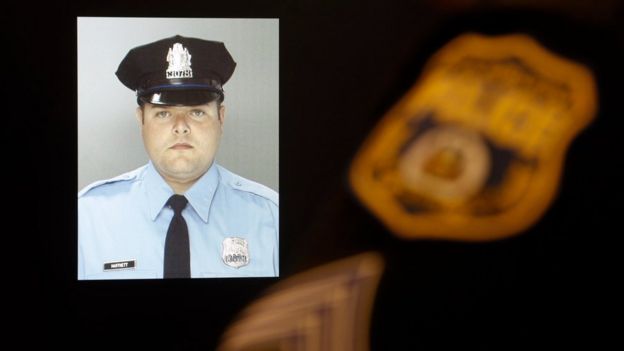 "He has confessed to committing this cowardly act in the name of Islam," the police commissioner said, because he believes "police defend laws that are contrary to Islam".
There is no evidence that Mr Archer, 30, of Yeadon, Pennsylvania, was working with anyone else, he said.
Philadelphia court records show he was convicted of assault in March and was set to begin a prison term. He had also been convicted of forging documents in a nearby suburb of Philadelphia.
Mr Harnett has "very serious injuries that will require multiple surgeries".
After the shoot-out, Mr Harnett screamed into his radio: "I'm bleeding heavily."
"His will to live undoubtedly saved his life," Mr Ross said. "This could have easily been a police funeral."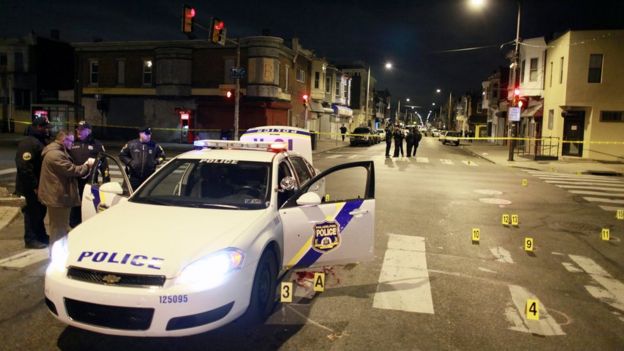 Mr Ross said Mr Archer's gun was a police firearm that was stolen in 2013.
"We know it was stolen; how many hands it may have passed through in the last couple of years, we do not know," Mr Ross said.
The shooting comes one month after attacks in San Bernardino, California, that left 14 people dead, and were committed by a couple who officials say were inspired by radical Islam.
They also come a day after police in Paris, France, shot dead a man who was apparently trying to attack a police station on the anniversary of the Charlie Hebdo attacks.
Read on: http://www.bbc.co.uk/news/world-us-canada-35264935
Continue to like, comment and follow us
MicstagesUK
On-line magazine/ website  bringing you the hottest headlines, as they drop.  We cover: Politics, Current Affairs, Movies, Music, Reviews, Health, Sports, Fashion and Current Affairs
Facebook: Micstages UK  Twitter: @MicstagesUK  Gmail: MicstagesUK
***WE GOT YOUR BACK***