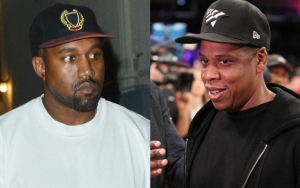 The 'I Love It' Rapper Reportedly Enlists Law Firm Quinn Emanual Urquhart And Sullivan To Rep Him In The Case.
Even though Kanye West

hasrepeatedly stated that Jay-z is his family, it is not the case anymore when money comes into play. Rumor has it, the G.O.O.D. Music founder files lawsuit against his fellow rapper's record label, Roc-A-Fella Records, and EMI Publishing over money he claims he's owed.

TMZfirst broke the story.
According to the publication, Kanye filed two lawsuits on Friday, January 25 against the music companies. Even though the content of the complaint was almost entirely redacted, it was stated Kanye claimed that "he signed an exclusive recording contract agreement with the company and is seeking monies owed from the label" in his suit against Roc-A-Fella Records.
Meanwhile, in his lawsuit against EMI Publishing, the "I Love It" rapper claimed that he signed a contract with the label before his debut album "College Dropout" was released in 2003. The contract allegedly stated that he was allowed to produce songs for other artists. By the end of 2011, it was said that Kanye had written over 200 songs and gave the rights to EMI.
Kanye additionally claimed to have a dispute with EMI and he had asked a judge to declare his rights back to him, presumably to collect royalties. The "Gold Digger" hitmaker reportedly enlisted law firm Quinn Emanual Urquhart & Sullivan to rep him in the case.
Team for Kanye didn't immediately respond to request for comment.
The lawsuit apparently wasn't the only suit that Kanye was involved in. It has recently been reported that Japanese fabric company Toki Sen-I Co. has filed a lawsuit against him for more than $600,000, noting that the textile company has yet to receive payment for a large order Kanye made for his Yeezy line. Toki Sen-I Co. reportedly is now seeking $624,000 reimbursement with storage fees, as it is unable to offload the 53,500 yards of textiles.