Exclusive: Claims doctors forced to hush up prime minister's true condition
Labour's most senior elected official spread a conspiracy theory that Boris Johnson did not have coronavirus, The Independent can reveal.
Andi Fox, who chairs Labour's powerful ruling body, retweeted a claim the prime minister had not been suffering from Covid-19 and that doctors had been forced to hush up his true condition.
After an inquiry from The Independent, Ms Fox locked her account, meaning it can only be read by followers.
The chair of Labour's National Executive Committee (NEC) shared a claim that those who had treated Mr Johnson in a London hospital had been forced to sign the Official Secrets Act, and that two doctors who had refused had been sent home.
Ms Fox retweeted a post that read: "Dorset Eye are reporting that when the PM was admitted to hospital, all staff were required to sign the official secrets act. 2 doctors who disagreed with his diagnosis refused, and were sent home 'on leave'. One of the doctors said 'if he has Covid19 I am not a doctor.'"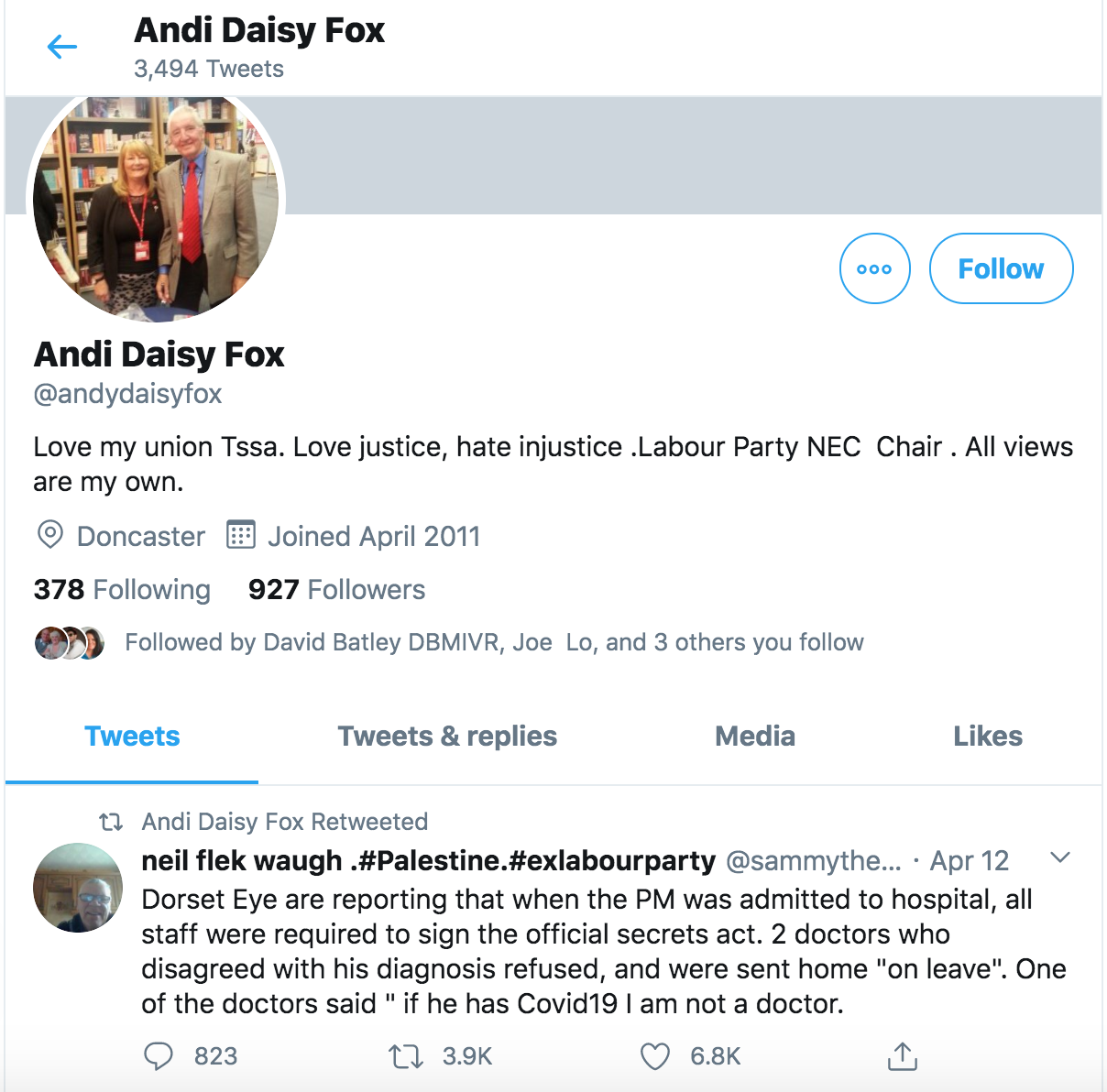 Sources close to Ms Fox said she had retweeted the conspiracy theory by accident and that it had since been deleted.
They also pointed to a tweet she sent a week ago in which she said she wished the prime minister "well and hope he recovers soon". In the same tweet, posted last Tuesday, she added that "now is not the time for nasty comments".
Conservative MP for Peterborough, Paul Bristow, said: "Labour should apologise for spreading baseless conspiracy theories about the NHS and the Prime Minister.
"Sir Keir Starmer needs to take action against this individual at the top of the Labour Party who is perpetuating myths and undermining trust in the NHS at a time when we all need to pull together."
Ms Fox, an ally of former Labour leader Jeremy Corbyn, represents the Transport Salaried Staff Association (TSSA) on the NEC and also represents the northeast on the TSSA's executive committee.
At the weekend, the prime minister thanked those who had looked after him during his stay in St Thomas's Hospital in London.
Mr Johnson said he would be grateful for the rest of his life for the care and treatment he received from NHS staff.
Source: independent