Campaigners criticise 'deeply cynical'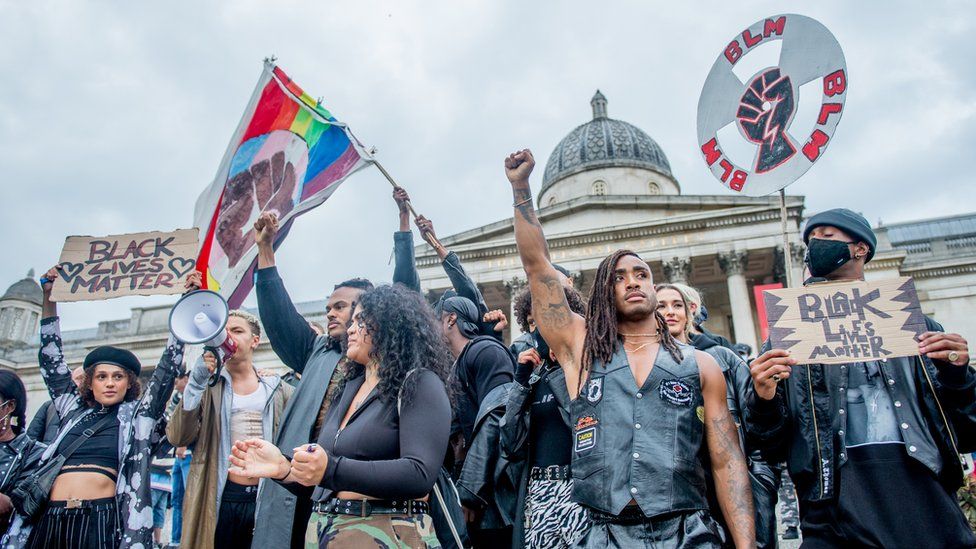 A government-commissioned report which found that the UK "no longer" had a system rigged against minorities has been accused of ignoring black and ethnic minority people's concerns.
The Commission on Race and Ethnic Disparities said family structure and
social class had a bigger impact than race on how people's lives turned
out.
Campaigners said it laid the blame for inequality on individuals and families.
And Labour has accused the government of downplaying institutional racism.
The commission was set up after Black Lives Matter (BLM) anti-racism protests across the country last summer – triggered by the killing of George Floyd in the US. But its report has been was met with criticism from campaigners.
Jabeer Butt, chief executive of the Race Equality Foundation, said: "The report
seems to go out of its way to deny that there's anything that's been the result of policies we've put in place and instead puts the blame at individuals' decisions or at family's doors."
The GMB's national officer Rehana Azam said it "feels like a deeply cynical report", calling it "completely irresponsible and immoral" and accusing it of ignoring black and ethnic minority workers' concerns.
Boris Johnson said the government would consider the implications of the
report's recommendations for future policy and remained "fully committed
to building a fairer Britain".
The
commission's 258-page report concluded
that the UK is not yet a "post-racial country" – but its success in
removing race-based disparity in education and, to a lesser extent, the
economy, "should be regarded as a model for other white-majority
countries".
In his foreword to the report chairman Tony Sewell, an education consultant and ex-charity boss, said while the "impediments and disparities do exist",
it continued, they were "varied and ironically very few of them are
directly to do with racism".
Black Lives Matter UK
tweeted
that it was "disappointed" that the report overlooked disproportionality in the criminal justice system.
Black people in England and Wales are nine times more likely to be imprisoned than their white peers, it said.
The report thanked the "mainly young people" behind the BLM movement for
putting the focus on race but said progress could not be achieved by
"cleaving to a fatalistic account that insists nothing has changed".
Among the main findings of the report were:
Children from minority ethnic communities did as well or better than white pupils in compulsory education, with black Caribbean pupils the only group to perform less well
This success in education has "transformed British society over the last 50 years into one offering far greater opportunities for all"
The pay gap between all ethnic minorities and the white majority population had shrunk to 2.3% overall and was barely significant for employees under 30
Diversity has increased in professions such as law and medicine
But some communities continue to be "haunted" by historic racism, which is creating "deep mistrust" and could be a barrier to success
Labour's shadow women and equalities secretary Marsha de Cordova labelled the report a "divisive polemic" that downplayed institutional racism.
Her colleague David Lammy, who led a
review on racial bias in the justice system
, tweeted that Britain's black community was being "gaslighted" and said he was "tired of the endless debate about whether structural racism
exists with little desire to actually address it".
Institutional racism was defined in the Macpherson report,
commissioned after Stephen Lawrence's murder
, as "the collective failure of an organisation to provide the appropriate and professional service to people because of their colour, culture or ethnic origin".
Commission member Samir Shah, chief executive of a TV production company, said the commission did not believe there was no institutional racism in Britain but said the term had become "divisive".
Racism was only one of the factors which caused disparities between ethnic
groups, he told BBC Radio 4's PM programme. "People do have choices,
they do have agency, it's not always that they're just victims of some miasmic racism that's in the air," he said.



When setting up the Commission on Race and Ethnic Disparities during the
Black Lives Matter protests last summer, Boris Johnson said he wanted to
"change the narrative, so we stop the sense of victimisation and discrimination".
But reaching a settled view on the question of racism in the UK was always going to be a struggle.
Critics were concerned by the prime minister's assertion that he wanted "to
look very carefully at the real racism and discrimination that people
face".
There was further unease among anti-racism groups at the reported involvement of Number 10 policy advisor Munira Mirza, because she had previously written of how institutional racism was "a perception more than a reality".
The appointment of Tony Sewell to lead the inquiry once again disappointed anti-racism activists.
One London-based organisation, Monitoring Group, considered seeking a
judicial review to prevent his selection on the grounds that he had "a
longstanding record of public statements rejecting or minimising" the impact of institutional racism in Britain.
The accusation that this report is the result of a hand-picked committee,
designed to say what ministers wanted to hear, will have some traction,
whatever the commission and the government insist about its
independence.
Read more from Mark
here
.


The commission said unemployment differences between ethnic groups had
declined and the pay gap between ethnic minority workers and white workers was also falling and at its lowest level for almost a decade.
But TUC general secretary Frances O'Grady said "institutional and
structural racism exists in the UK, in both the labour market and wider
society", and said black and minority ethnic workers were far more likely "to be in low-paid, insecure jobs" compared to white workers.
Prof Kehinde Andrews, a professor of black studies at Birmingham City
University told BBC news the report was "not a genuine attempt to understand racism in Britain" or "make a substantive change".
He said the fact there was a discussion over whether institutional racism existed was the problem, "because it does exist, it clearly exists and the question should be 'how do we address this'".
Liberal Democrat equalities spokeswoman Wera Hobhouse said the report must not be used as an excuse to continue "shameful inaction" on issues of racial injustice.
She called for an end to "hostile environment" immigration policies and the "disproportionate" use of police stop and search tactics.
The commission found not enough information was given to the public about why police used stop and search, saying the focus was on drugs rather
than knife offences.
calling it "unhelpful" and "imprecise and often misleading".
Dr Maggie Aderin-Pocock, a member of the Commission on Race and Ethnic
Disparities, said the report was not denying institutional racism existed but said the commission had not discovered evidence of it in the areas it had looked.
Equalities minister Kemi Badenoch said she "warmly welcomed" the report and was impressed by the analysis within the report, but added she was "looking
forward to understanding fully" the issues that had been raised and "what can be done" to address them.
Chancellor Rishi Sunak said progress had been made to tackle racism. "That's not to say there aren't instances of racism that of course exist in this
country," he told ITV.
"But if I think about the things that happened to me when I was a kid, I can't imagine those things happening to me now."
The report's 24 recommendations included:
Extended school days to be phased in, starting with disadvantaged areas, to help pupils catch up on missed learning during the pandemic
Children from disadvantaged backgrounds should have access to better quality careers advice in schools, funded by university outreach programmes
More research is needed to examine why pupils perform well in certain
communities, so this can be replicated to help all children succeed
Organisations should stop funding unconscious bias training, with government and experts developing resources to help advance workplace equality