Winnie Madikizela-Mandela, the anti-apartheid campaigner, has died.
In a statement, the 81-year-old's family said that she died in hospital on Monday afternoon surrounded by "family and loved ones", following a long illness.
Ms Madikizela-Mandela, who met Nelson Mandela at the age of 22 in 1957, was married to the former South African president for 38 years, from 1958 until their divorce in 1996 – although the pair separated in 1992.
Nelson Mandela was imprisoned on Robben Island for the 27 years of the pair's 38-year marriage, and throughout his incarceration, Ms Madikizela-Mandela campaigned for his release and the rights of South Africa's suppressed black majority.
The family statement continued that the former first lady of South Africa was "one of the greatest icons of the struggle against apartheid, she fought valiantly against the apartheid state and sacrificed her whole life for the freedom of her country…
"She kept the memory of her imprisoned husband Nelson Mandela alive during his years on Robben Island and helped give the struggle for justice in South Africa one its most recognisable faces.
"She dedicated most of her adult life to the cause of the people and for this was known far and wide as the Mother Of The Nation.
"This was in recognition of the fearless and uncompromising stand she took against the might of the apartheid regime.
"She was really a colossus who strove for South African political landscape."
The family continued that they were "deeply grateful for the gift of her life, and even as our hearts break at her passing we urge all those who loved her to celebrate this most remarkable South African woman".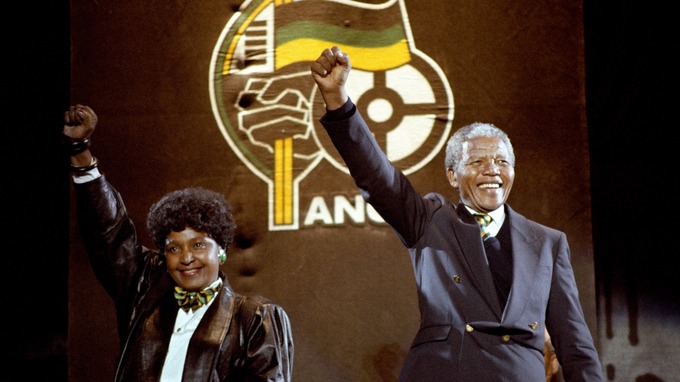 Who was Winnie Madikizela-Mandela?
Born Nomzamo Winifred Zanyiwe Madikizela on September 26, 1936, Ms Madkizela-Mandela was a member of South Africa's ruling ANC party's governing body.
Ms Madikizela-Mandela held several government positions during her life and headed the African National Congress' (ANC) Women's League.
As a prominent anti-apartheid campaigner, Ms Madikizela-Mandela was regularly detained by the South African government.
During her husband's incarceration, Ms Madikizela-Mandela faced her own ordeals, she was tortured, held in solitary confinement for more than a year, subjected to house arrest, kept under surveillance, and banished to the remote town of Brandfort.
However, Ms Madikizela-Mandela was also an advocate of violent resistance and the practice known as necklacing – of killing suspected traitors with burning tyres.
The activist was accused of ordering the murder of 14-year-old Stompie Moeketsi, and although she stayed out of jail, in 1991 she was convicted of kidnap. One of Ms Madikizela-Mandela's bodyguards was convicted of the teenager's murder.
Only years later, at the Truth and Reconciliation Commission in 1997, did Ms Madikizela-Mandela accept any fault, telling the hearing: "It is true, things went horribly wrong. For that, I am deeply sorry."
However, as she entered the later stages of her life, Ms Madikizela-Mandela appeared to have no regrets.
Speaking exclusively to ITV News following her former husband's death in 2013, Ms Madikizela-Mandela said: "You wouldn't have the liberation South Africa has today if I hadn't done that.I would do that 100 times more."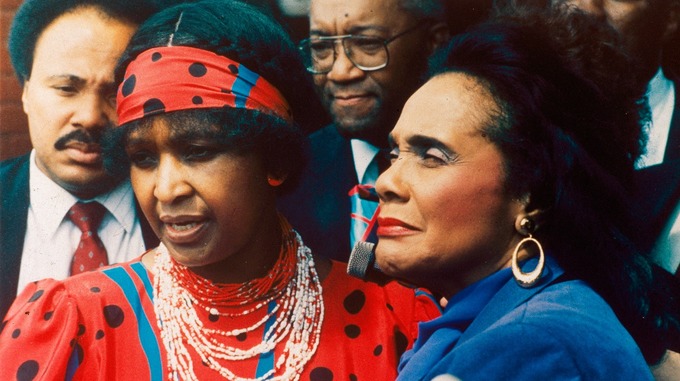 Tributes paid to Ms Madikizela-Mandela
The Nelson Mandela Foundation, a non-profit organisation which promotes his vision of freedom and equality for all, said Ms Madikizela-Mandela's death was "a hard blow".
The Foundation's chair, Professor Njabulo Ndebele continued: "She travelled a very long road together with our founder, Nelson Mandela.
"She was a member of a generation of leaders which survived the most brutal period of state terror in apartheid South Africa, and she was a friend of the Foundation.
"All South Africans are indebted to Mama Winnie, whether they acknowledge it or not.
"From the witness of her life, we knew we could stand tall; we knew also we could falter and stumble. Either condition was an affirmation of life.
"Her cry was our cry, and in 2018 we can say we did triumph.
"We will miss her. And our country will miss her."

South Africa's President Cyril Ramaphosa said his country had lost an "icon", and that they should "reflect on her rich, remarkable and meaningful life".
He continued: "Mama Winnie was an abiding symbol of the desire of our people to be free…
"A voice of defiance and resistance. In the face of exploitation, she was a champion of justice and equality.
"Throughout her life, she made an everlasting contribution to the struggle through sacrifice and her unyielding determination.
"Her dedication to the plight of her people gained her the love and the respect of the nation.
"For many years, she bore the brunt of senseless brutality of the Apartheid state with stoicism and fortitude. Despite the hardship, she faced she never doubted that the struggle for freedom and democracy would triumph and succeed.
"She remained throughout her life a tireless advocate for the dispossessed and marginalised. She was a voice for the voiceless…
"Let us draw inspiration from the struggles that she fought and the dream of a better society to which she dedicated her entire life.
Many others took to social media to pay tribute.
The ANC party in South Africa's Parliament said a "struggle icon has fallen".
Source: 
http://www.itv.com/news/2018-04-02/winnie-mandela-former-wife-of-nelson-mandela-dies-in-south-africa/
#wegotyourback #wegotitcovered #ITVnews #africa #southafrica #politics #nelsonmandela #winniemadikizelamandela #formerfirstlady
#dies #81 #smashingrecords #antiapartheidcampaigner
************
For more breaking news, subscribe, like, comment and follow:
************
Advertise your story, business, service, function or music, RIGHT HERE!! Turn our subscribers and followers into your potential customers, readers or listeners.
Email: micstagesuk@gmail.com for more information
************
We got your back, and we got it all covered! Bringing you the hottest tea as it spills.
We cover:  News, Entertainment, Sports, Fashion and Music.