Starbucks has said that one of the explosions appears to have occurred outside a coffee shop in Brussels airport, injuring an employee. It said in a statement:
We are deeply saddened by the senseless acts that have taken place in Brussels today.
Amidst reports of attacks targeting Brussels Airport and at a metro station, initial indications are that an explosion took place outside of a store within the airport. While one partner (employee) was injured we can confirm that all our partners have been accounted for and are safe. This store and all other Starbucks stores in Brussels will remain closed until further notice.
The headquarters of the European Commission will be evacuated by Belgian police at 4pm local time, according to VTM news.
The Berlaymont building, where flags were lowered to half mast earlier today, will be emptied so that police can perform a full security sweep of the building it said.
Labour MEP Richard Corbett is currently locked in at the nearby European Parliament building
Responding to the attacks,
Pope Francis has condemned "blind violence which causes so much suffering".
In a telegram to the archbishop of Mechelen-Brussels, the pope "expresses his deepest sympathy to the injured and their families, and all those who contribute to relief efforts, asking the Lord to bring them comfort and consolation in this ordeal. The Holy Father again condemns the blind violence which causes so much suffering and imploring from God the gift of peace, he entrusts on the bereaved families and the Belgians the benefit of divine blessings."
There has also been reaction from different faith groups in the UK.
Dr Shuja Shafi, secretary general of the Muslim Council of Britain, said:
We are shocked to hear about the terror attacks in Brussels, coming as they did only a few days after the horrific atrocities in Istanbul. I hope the killers are brought to justice and face the full force of the law.
Our thoughts and prayers are with the victims, families and communities affected.
As we come to terms with yet another attack on European soil, we must redouble our efforts to work together to defeat terrorism wherever it comes from. These mass murderers want to divide our society and pit people against each other. We must deny them this goal at every conceivable opportunity.
The Archbishop of Canterbury, Justin Welby, said:
In the great holy week of Christian prayer and mercy, the

Brussels attacks

shock all those who seek peace and justice through the terrible cruelty and utter separation from all that is of god. Once again we see the contrast between the vain efforts to terrify through indiscriminate murder, and the call of god to be those who show mercy, who seek peace and pursue it. Let us at every service this week pray for those caught up in the traumatic events at the airport and in the city of Brussels.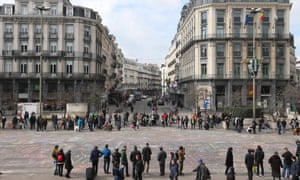 A square outside the Bourse in Brussels has become transformed into a giant black board for people to chalk messages of defiance and solidarity.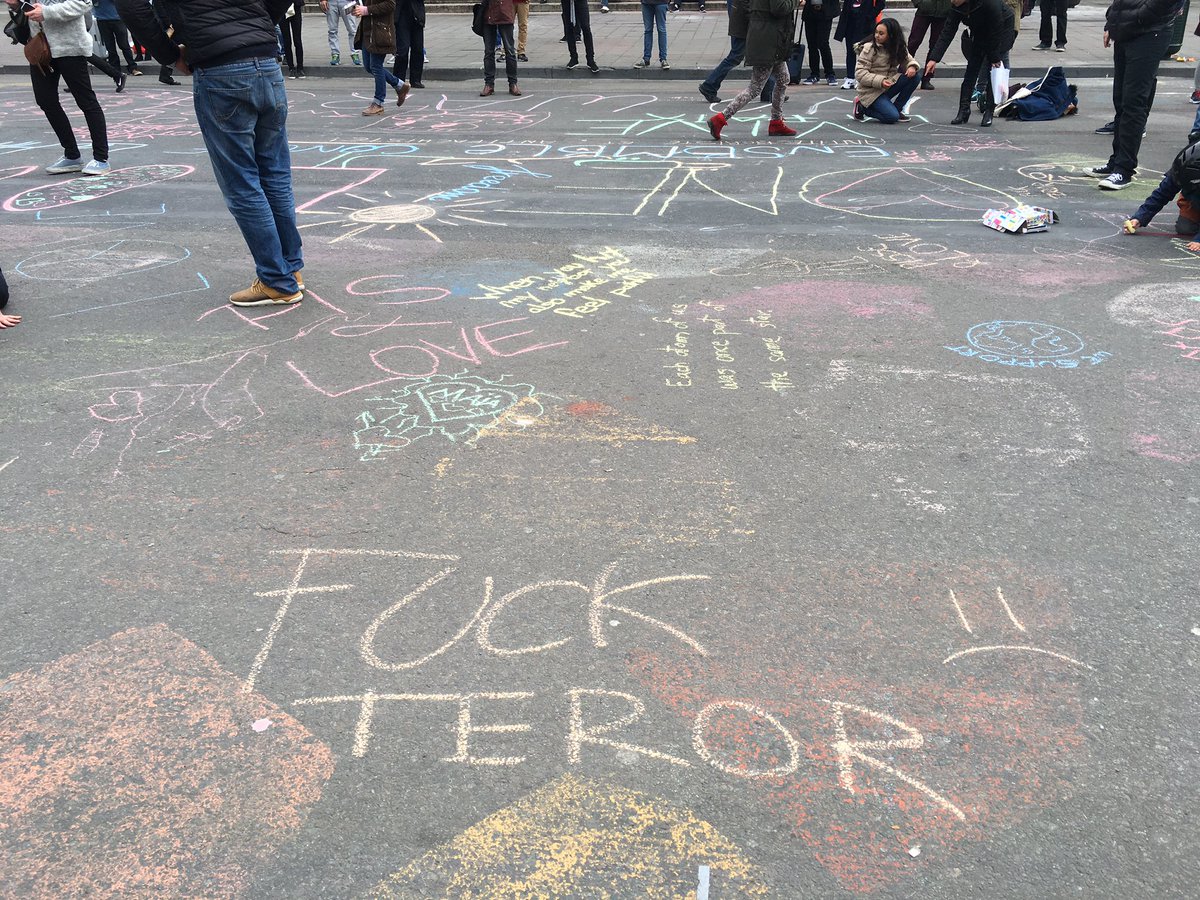 Here's video of part of Cameron's statement on the attacks

Hillary Clinton, the frontrunner to be the Democratic presidential candidate, said the attacks "strengthen our resolve to stand together to fight terrorism".
The French interior minister, Bernard Cazeneuve, said the attacks reinforced the need for "very high security" at this summer's European football championship in France, AP reports.
Cazeneuve said that everything will be put in place during the tournament from 10 June-10 July to guarantee "collective security".
In the wake of the Paris attacks that left 130 people dead in November, tournament organisers had already strengthened security measures and made changes to fan zones. Cazeneuve said the state would contribute up to €2m for video surveillance in the designated areas for the public.
Cazeneuve said Euro 2016 should bring "sportsmanship, festivities and security for teams, accompanying staff and spectators".
Updated at 1.59pm GMT
Parents in
Belgium
have been told that there is no reason to panic and to pick up their children from school at the normal time, writes
Oliver Milne
.
Speaking to VTM News, the Flemish education minister, Hilde Crevits, said: "Parents' concerns are understandable, but they should stay where they are. Your children are secure and safe in school."
Crevits also told viewers that all after-school clubs and school trips had been cancelled and that extra security measures had been put in place in all schools in Brussels and Flanders.
Updated at 1.57pm GMT
As yet there has been no claim of responsibility, but social media accounts linked to Islamic State militants have praised the attacks, according to jihadi watcher Michael Horowitz, a security analyst at the Levantine Group.
Updated at 1.49pm GMT
The Belgian Taxi Drivers Union has urged its members to offer free rides to those stranded after the attacks, writes Oliver Milne.
The union tweeted: "Friends offer your services to your fellow citizens and help evacute people safely. Thank you."
More than a hundred people were injured and at least 20 people were killed at the Maelbeek metro station, writes Oliver Milne.
Speaking at a press conference, the mayor of Brussels, Yvan Mayeur, said that at least 20 people died in the explosion at the metro station, but that it is "too early to say exactly what the number of victims will be".
He confirmed that 106 people had been injured in the metro station blast.
Read on:
http://www.theguardian.com/world/live/2016/mar/22/brussels-airport-explosions-live-updates
For more breaking news visit:
MICSTAGESUK
On-line magazine/ website  bringing you the hottest headlines, as they drop.  We cover: Politics, Current Affairs, Movies, Music, Events, Reviews, Health, Sports and Fashion
Like, comment and follow us on:
Facebook: Micstages UK  Twitter: @MicstagesUK  Gmail: MicstagesUK
 ***WE GOT YOUR BACK***