Some €10 billion of Libyan government funds, frozen as part of sanctions against the late Muammar Gaddafi's inner circle, has mysteriously disappeared from a Belgian bank somewhere between 2013 and 2017, according to local media.
Back in November 2013, four Euroclear Bank accounts belonging to the Libyan Investment Authority (LIA) and its subsidiary Libyan Foreign Investment Company (LFICO) in Bahrain and Luxembourg, contained some €16.1bn in frozen assets. However, when authorities tried to seize the funds in 2017, it turned out there was only just over €5bn left in those accounts, an investigation by Le Vif weekly revealed.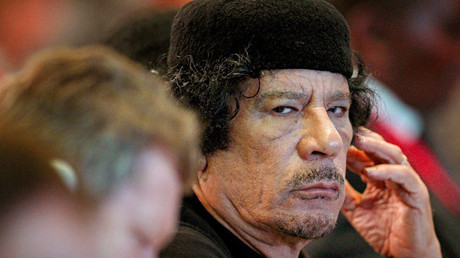 "There remains a little less than 5 billion euros on the four accounts opened at Euroclear Bank SA," Denis Goeman, a spokesman from Brussels' prosecutor's office told the Belgian publication. The remaining funds are still subject to seizure, but so far Euroclear reportedly has refused to hand over the accounts, prompting the prosecutor to threaten the institution with "more coercive measures"unless Euroclear releases the remaining Libyan funds "within a certain period."
Belgian judicial authorities reportedly noticed the disappearance in autumn 2017, when the investigating magistrate, Michel Claise, who was in charge of the probe into alleged money laundering by Gaddafi's inner circle, requested the seizure of the frozen Libyan funds. Those assets have been frozen since March 2011 in accordance with the UNSC resolution 1973. Belgium, however, has never authorized the "thaw" of these assets, Florence Angelici, from the General Administration of the Treasury, told Le Vif.
According to the paper, there are many "indications" that Belgium failed to comply with UN regulations governing asset freezes on certain Libyan accounts in local banks. Before the 2011 uprising that ousted Muammar Gaddafi, Libya had been a major oil exporter. To better handle the cash flow from Africa's largest proven reserves of oil, in 2006 the government created the Libyan Investment Authority to invest the country's black gold wealth abroad.
However, with NATO's intervention in 2011, the UN introduced sanctions against the Libyan government's assets, effectively seizing roughly $67bn from the LIA, held across Europe and North America. In the EU, however, the national governments froze only the original amounts, while the interest and dividends earned after 2011 remained a liquid asset.
Last month's investigation, by Brussels-based European affairs weekly Politico, discovered"big, regular outflows of stock dividends, bond income and interest payments," from the €16 billion Gaddafi-linked funds kept in Belgium, suggesting a "loophole in the sanctions regime."
"Interest flows from the fund's assets around the world were frequent," Politico revealed in their investigation, citing former chief executives of post-2011 LIA. Euroclear Bank also confirmed paying monthly dividends from the four frozen assets. According to an email exchange between a Euroclear employee and the Belgian finance ministry, the interest had been released once a month to an "HSBC account in Luxembourg belonging to LIA and to several other LIA accounts at the Arab Banking Corporation, a bank headquartered in Bahrain, whose main shareholder is the Libyan Central Bank,"Politico reported.
While Belgium's finance ministry insists that the interest payments were legal, Le Vif's investigation, published Thursday, is certain that authorities must answer several crucial questions, the biggest one being: Where did the €10 billion vanish to?
Source: https://www.rt.com/news/420837-flozen-libyan-billions-missing/
WeGotYourBack #WeGotItCovered #RTNews #Politics #Belgium #Libya #Ghadaffi #FrozenAssets #10BillionMissing #UN #FrozenAssests #LIA #LFICO #Bahrain #Luxembourg #BelgianJudicialAuthorities #UNSC #BelgianBank #EuroclearBank
************
For more breaking news, subscribe, like, comment and follow:
************
Advertise your story, business, service, function or music, RIGHT HERE!! Turn our subscribers and followers into your potential customers, readers or listeners.
Email: micstagesuk@gmail.com for more information
************
We got your back, and we got it all covered! Bringing you the hottest tea as it spills.
We cover:  News, Entertainment, Sports, Fashion and Music.